We aren't born hating our bodies.
Mama, I see you.
I see you trying EVERYTHING to get your pre-baby body back (whatever the hell that means).
I see you hopping on every diet fad and workout fad and buying into all the magazines telling you that if you just breastfeed/eat keto/do the 28-day fix/drink only shakes, you will lose your 'baby weight'.
I see you trying so hard to love your body because, you know, it grew a human (or two…or three…).
But none of it is working.
None of it is making you happier.
None of it is making your body happier.
And the constant stream of social media showing you those 'perfect' bodies is downright depressing.
So what is a Mama to do? Because these negative thoughts and destructive habits can't keep going on. Trust me: I KNOW.
And I want to help.
Enter Body Positive Bootcamp: a 6 week online journey to finding sustainable happiness by jumping off the dieting rollercoaster and on the body positive train.
This is not a weight loss program.
Let me say that again for everybody in the back!
THIS. IS. NOT. A. WEIGHT. LOSS. PROGRAM.
This is a journey into those deep seeded beliefs that we need to look a certain way to feel a certain way.
A journey into all the damaging shit society taught us from childhood.
A journey into learning how to treat your body with love and respect when sweating it out instead of hatred and loathing.
A journey into getting our identities back instead of focusing on getting our 'bodies back'.
If you have tried every last thing to lose weight, and nothing has worked, why don't you join me in loving yourself instead.
Jenn is an exceptional coach. She is warm, caring, empathetic and fun. Her classes are dynamic and varied, and filled with lovely people. She motivates you to meet your fitness goals by encouraging you to love yourself and your body. She gets the challenges of being a parent with young kids and limited time. Time spent with Jenn is truly self-care, for your mind, body and soul.
Here's what you get in this program:
From 'An Attitude of Gratitude' to 'Stop waiting on the weight' to '#Feminism', each week will have a new theme leading you closer to finding more joy in your life and body.
Three Group Coaching Calls
The one and only Kate Love (Mama Coach and self-care strategist) will hop on a call every second Thursday to lead you through an open discussion about what it means to be a Mama and how to put yourself first.
These workouts will teach you how to move your body from a place of love instead of a place of hate (i.e. a punishment for what you ate…).  By accomplishing these fun but tough workouts every week, you will begin to admire your body for what it can do instead of what it looks like.
Become a part of one of the safest spaces on the internet with a crew of other Mamas who get exactly what you are going through.  Discuss your struggles, your wins, your questions, your concerns.  We are all there to support you.
This Body Positive journey starts May 7th.
This program is for all those Mamas out there who are sick and tired of hating on themselves day in and day out.
This program is for all those Mamas out there whose entire days are ruined when they walk by a mirror/put on pants that aren't Lycra/eat a cupcake.
This program is for all those Mamas who are so terrified of passing their shit onto their kids.
WHO THIS PROGRAM IS NOT FOR:
This program is not for Mamas who aren't ready to take a big leap of faith with me.
This program is not for Mamas who hate talking about feminism and the politics of being a woman in society today.
This program is not for Mamas who want to sit back and watch and just read the emails but not put themselves out there and participate.
To make this next 6 weeks super special, you'll also get:
BEYOGRAPHY DANCE CLASS
Get in touch with your inner Queen Bey!  Part of our lesson plan is to learn how to move in ways that are fun and make us feel amazing so come on out to this Beyography class taught by one of us, a Baby Mama with 2 little dudes of her own.  We we will learn a short and simple routine to none other than the definition of confidence, Beyonce.  There may also be bubbly and chocolate… 😉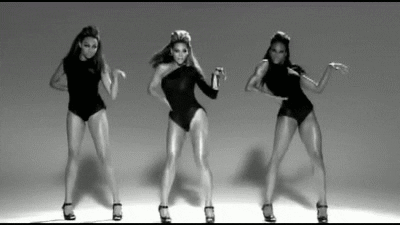 AND FOR ONE LUCKY MAMA…
For the Mama who gave her all during the program: participated, cheered the other Mamas on, went through her journey and came out the other side, and filled out the feedback form, she will win a day trip to Scandinave Spa (or the spa of her choice).  Kate and I will discuss in the last week of the program and announce the winner on the last Friday.
When you are down, your house is a wreck, your baby has consumed all of your energy, and you feel a million miles away from your old self – go to Jenn's class. If you are staring at your phone, trying to remember the last time your body felt strong, and going out of your mind wishing you could talk to another adult – go to Jenn's class. If you want to move your body, but you are nervous about a new exercise thing, or you hate gym culture – go to Jenn's class.
Baby Mama Fitness is more than a boot camp. It's an honest-to-goodness community of fun, accepting women just like you. Working out with Jenn helped me get to know my body again after two pregnancies. And I'm not ashamed to say that Baby Mama Fitness played a role in pulling me out of the deep, dark hole of postpartum depression. Go. Move again. Laugh again. Be around some (non-baby) people again. This will help.
Jenn is a very special coach. Not only is she motivating, creative and fun, but she is personally invested in EVERY person who joins her classes. She remembers everyone's strengths, needs and conditions, and seamlessly adapts movements to all levels. Jenn pushes her students to continuously improve based on their own goals (no slacking off just for the sake of it!), while ensuring they don't aggravate injuries or get discouraged by any imitations they may have. Jenn welcomes all abilities, sizes and attitudes, from "I love running!" to "I'm so not feeling it, but I'm here anyway!" If you show up, Jenn will make you glad you did.
Join me for 6 weeks of Body Love starting May 7th!
For this one time only, this program is available at introductory pricing of $149!
I am a super-mom to a spirited (i.e. absolutely bananas)
4 year old and super-trainer to new moms who
want to get their pre-baby fitness and confidence back
in a realistic, healthful way. In a way where they don't hate on their
bodies.  In a way where they aren't counting calories
and shame.  I combine fierce fitness with nutrition
know-how to help Baby Mamas heal from childbirth and
start getting strong again.
You can usually find me running my signature bootcamp (while telling hilarious stories) in Toronto, running after my kid, or running to the couch to watch 'Grey's Anatomy' and eat chicken wings.
Frequently Asked Questions
How much does this whole thing cost?
This is my very first round of this program.  I am going to make mistakes.  I am going to be learning as I go.
Because I will be asking for feedback after the program is done, I am offering it for only $149 (+HST) for this time only.
If you want to get in on the ground floor, join me!
How will the program be delivered?
Monday to Friday you will receive an in-depth email from me with a body positive resource and a your short assignment.
On workout days there will be a video in the email.
Kate will be delivering the calls via zoom and every will get a login link.
When does the program start?
How much time should I dedicate to this program?
I would say, on average, about 20 minutes a day.  Some days will be a little bit more and some days will be a little bit less.
I want to make this impactful but easy to tackle as well.
This is the one and only time this program will be available at this pricing of $149!
Have more questions? I have your answers!